Cook Pharmica was awarded the 2017 ISPE Facility of the Year Award (FOYA) for Equipment Innovation for the execution of their project to expand manufacturing capabilities. Utilizing state-of-the-art robotic technology, the flexible filling line (FFL) is capable of processing syringes, cartridges, and both liquid and lyophilized vials.
IPS partnered with Cook to overcome the challenges of integrating new equipment within the existing facility in order to implement the bold and unique vision for this FFL. IPS coordinated with equipment suppliers to determine optimal systems integrations, creatively utilizing the available footprint. 3D laser scanning of the facility and 3D design tools were deployed to ensure our team could design into the space within fractions of an inch.
Many challenges were involved in incorporating a new process into an existing facility. Such a unique approach demanded a high-level of coordination to integrate the filling line, isolator AHUs, and lyo mechanical equipment in the technical space and penthouse areas, while maintaining material and personnel transitions of the original facility.
Digital 3D scanning utilized to account for existing equipment and avoid conflicts
Process optimized by maintaining critical equipment adjacencies, e.g. vacuum pumps for freeze dryer
Coordinated with structural engineers to design penthouse support around the process
Solved challenges of running isolator ducts around significant building steel and other obstacles while minimizing length and turns
Maximized use of available technical space by designing custom platform for lyo ancillary equipment. Design packages prepared to take advantage of periodic shutdowns, enabling construction activities to occur while minimizing downtime for existing manufacturing operations
Move-in path design package specifically for documenting room by room clearances and facility modifications required for moving in large equipment through the building. This package accounted for fractions of an inch and led to successful installation without surprises.
Image Gallery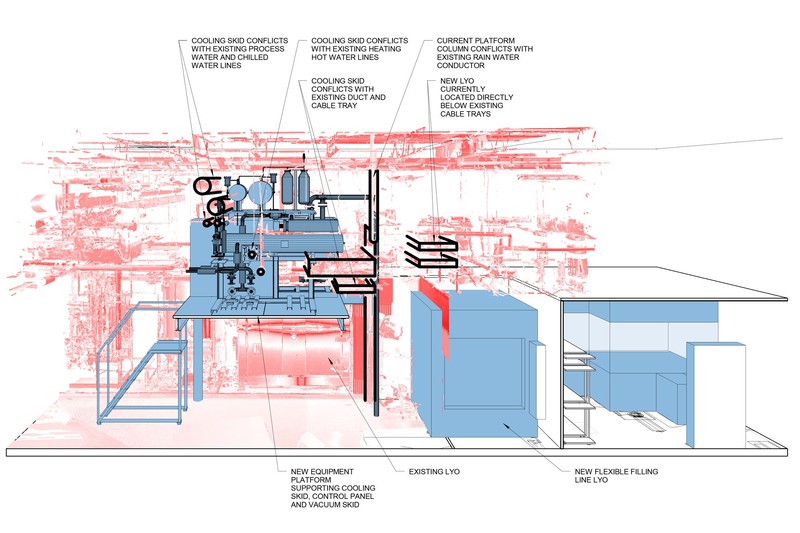 View Gallery
Project Experts
Related Happenings At IPS