Our Guiding Principles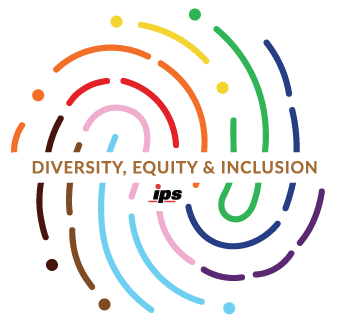 The mission of our DE&I program is to be both a catalyst for change and a resource to promote diversity, equity, and inclusion principles across IPS. Our program fosters global understanding, guides a dynamic platform, and seeks to embed the value of DEI into our culture. We aim to enable business success, drive industry trends, and increase community impact through our DEI goals and programming.
Diversity: The full range of identities, backgrounds, attributes, and thought represented in our organization, includes but not limited to race, ethnicity, gender, sexual orientation, age, physical and neuro-diversity, religion/beliefs, social-economic class/caste status.
Equity: The fair access, opportunity, treatment and advancement for all people, while simultaneously working to identify and eliminate barriers that prevent the full participation of historically marginalized groups.
Inclusion: Promoting a sense of belonging, in a supportive and safe environment, that allows all employees to bring their authentic selves to work, achieved by accepting, respecting, and valuing individual differences.
Our Commitment to DE&I
We want to ensure there is a positive focus on diversity as we continue to grow as a company. Diversity aligns directly with the IPS core values of entrepreneurship, passion, innovation, respect, collaboration, and safety. New ideas bring more innovation. The more we respect one another's differences, the more we grow professionally.
As people are the lifeblood of our business, we continue to look at ways of finding, attracting and developing the best people from across the world in what they do, regardless of their ethnicity, culture or background. 
IPS is driven by four core pillars to achieve an equitable workplace:
Ongoing commitments from our executive leadership to promote and sustain a diverse and equitable workplace.
Create and maintain a global platform for our Employee Resource Groups to operate and share their experiences.
Engage in partnerships with national and global organizations that promote the talents of underrepresented professionals.
Lead and inspire the next generation of STEM professionals by working with students through all levels of education in our locations of operation.
Read about how our employees are using their expertise to introduce students at Howard University to biopharmaceutical design and the role that engineers play in the flow from concept to detailed design.
Sustaining a Diverse and Equitable Workplace Culture
Diversity in Recruiting
We are committed to recruiting in professional and educational areas that have typically been underrepresented.
We are working with the NSBE and the AFBE-UK to promote and support a diverse workplace in our USA and EMEA regions.
Through our efforts, we will gain an organizational alignment of the partnerships and activities to support diversity recruiting to:
Strengthen our relationships with organizations/schools and within personal networks in order to build a diverse pipeline of candidates for IPS opportunities.
Hire more women and Underrepresented Talent (URT) from school/programs and through internal referrals, intentionally focusing on leadership and other key positions.
Effectively communicate our commitment to diversity, equity and inclusion to all candidates.
IPS Black Employees United for Progress
The I.B.E.U.P. is a network of employees within IPS that supports the progression of Black and Brown employees within our company and fosters an environment that encourages the development of minority students, while building a sense of community for people to share their cultural lens.
Learn more about the group and their objectives on our Insights blog.
Latinx Network de IPS
The LNI mission is to create a supportive environment for the Latinx community and contribute to the IPS motto "Knowledge, Skill & Passion." Utilizing the voices and experiences of our Latinx members as well as our allies, we aim to create a healthy and culturally diverse work environment for all of IPS.
The Women's Initiative of IPS
The Women's Initiative of IPS aims to increase engagement and the advancement of women at IPS to advance the success of the company, and to achieve their own career potential. Provide a forum for mentorship, sponsorship, professional development, and networking internally and externally.
The IPS Emerging Professionals
The IPS Emerging Professionals' goal is to attract, develop, and empower emerging professionals at IPS through relationship building, mentoring, technical training, and community enrichment.
Our Commitments to Creating a Diverse, Equitable and Inclusive Working Environment