IPS Expands in the Greater Philadelphia Area to Support "Cellicon Valley" Growth and Talent Acquisition
- Serving a growing Life Sciences industry from two sides of the Philadelphia, Pennsylvania suburbs with the opening of IPS' new Cherry Hill, New Jersey office -
Blue Bell, Pennsylvania, November 07, 2019 – IPS-Integrated Project Services, LLC, a leading provider of Engineering, Procurement, Construction Management and Commissioning, Qualification, and Validation (EPCM/CQV) services, announces the continued expansion in the Americas region with the opening of a new office located in Cherry Hill, New Jersey.
IPS has proudly been serving the Life Sciences industry from the western suburbs of Philadelphia for over 30 years. Founded in Malvern, moved to Lafayette Hill, and now headquartered in Blue Bell, Pennsylvania, IPS grew its presence from two founding partners to nearly 1,400 employees across the globe. The addition of its newest office in Cherry Hill, New Jersey marks the nineteenth office across nine countries.
The strategic decision to establish an office in Cherry Hill is for three key reasons: 1) support the accelerated growth of the cell and gene therapy developments across the Philadelphia region, touted as Cellicon Valley; 2) provide a better work-life balance to current employees with long commutes from the eastern side of Philadelphia; and 3) expand talent acquisition reach to attract prospective employees living in or around the city. IPS is now strategically located on both sides of the Delaware River. The new Cherry Hill office is located a short walking distance from the PATCO Woodcrest Station, making travel by public transportation within a half-hour commute from downtown Philadelphia.
"The newly established Cherry Hill office is an extension of the Blue Bell operations," stated Mark Butler, IPS President and Managing Director - Americas. "With support from subject matter experts in the many specialties within the pharmaceutical and biotechnology sectors, including cell and gene therapies, the IPS Cherry Hill office is a catalyst for continued growth and another resource to serve the increasing strength of the Life Sciences industry in the region."
"We are witnessing unprecedented developments in cell and gene therapies and advanced therapy medicinal products across the world, and certainly in the greater Philadelphia region," stated Dave Goswami, P.E., IPS Chairman and Chief Executive Officer. "We are excited to extend the expertise of our Blue Bell, PA headquarters to southern New Jersey, a short distance from Philly's city limits. As a leading
solutions provider to nearly 40 clients in the cell and gene industry, the combined pool of nearly 400 talented and experienced life sciences professionals between the two locations offers years of practical knowledge on topics and technologies that will drive the cell and gene therapy industry forward."
About IPS-Integrated Project Services, LLC
IPS is a global leader in developing innovative business solutions for the biotechnology and pharmaceutical industries. Through operational expertise and industry-leading knowledge, skill and passion, IPS provides consulting, architecture, engineering, construction management, and CGMP compliance services that allow clients to create and manufacture life-impacting products around the world. Headquartered in Blue Bell, Pennsylvania-USA, IPS is one of the fastest-growing companies servicing the life sciences industry with over 1,400 professionals in the United States, Canada, Brazil, the United Kingdom, Ireland, Switzerland, Singapore, China, and India. For more information about IPS, please visit www.ipsdb.com.
CONTACT:
Dept. of Marketing and Communications
+1.484.344.9234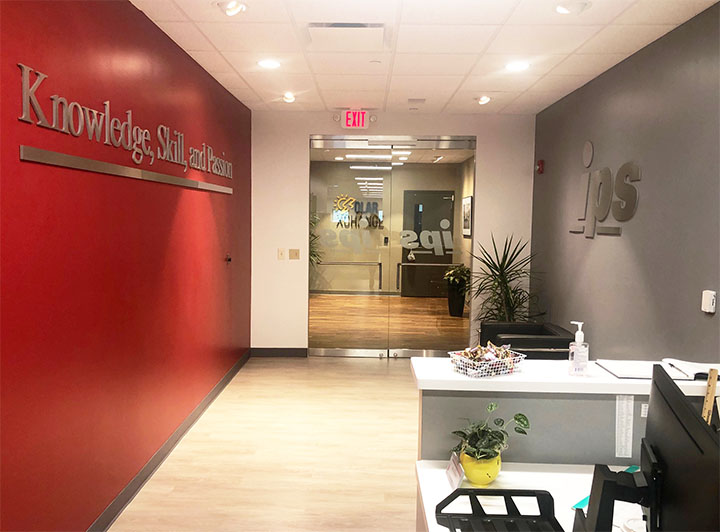 IPS welcomes employees and guests to our newly established office at 111 Woodcrest Road, Suite 100, Cherry Hill, NJ 08003
Related Happenings At IPS
Share this News Article