Modularization is the process in which a building (or part of its components or systems) is constructed off-site, under controlled plant conditions, using the same materials and designing to the same codes and standards as conventionally built facilities, but in a much shorter duration, and with better construction quality management. Modularization of process and facility systems, or complete facilities, has proven to be a lean project delivery technique that aids in the achievement of these goals.
The dynamic nature of technology and best practices evolvement in the early 21st century that lead many biopharmaceutical facility projects are integrating some form of modularization execution in their project delivery. The modularization concept can manifest as prefabricated buildings, modular process skid systems and HVAC systems, and pre-engineered modular construction techniques in order to maximize predictable costs, schedules, and quality benefits.
Originally applied to describe process skids, "modular" was a connotation of a complete facility, organized in shipping container sized units, built at a remote location, transported to the owner's address, and reassembled on site. The modules consist of structural frames fit-out with architectural elements, mechanical, electrical and plumbing (MEP) systems, and process equipment which are already integrated, commissioned, and at times, IQ. This approach can offer many benefits as a rapid response to areas where construction techniques or skills for CGMP facilities are not available. This may not be the ideal solution for most of today's construction projects, such as those that consist of expansions, renovations, and upgrades to existing plants. For these projects, facility owners can take advantage of a customized modular project delivery approach to reduce the overall project schedule, shift labor hours off site to increase quality with minimal disruption to site operations, and gain potential cost benefits.
Modular project delivery (MPD) offers several significant benefits. Building in a controlled environment reduces waste through avoidance upstream rather than diversion downstream. In addition, this promotes sustainability through the improved quality management throughout the construction process and significantly less on-site activity and disturbance. Other benefits include: enhanced quality control that is achievable in shop fabrication versus field fabrication; reduced waste; reduced impact on current operations; and simplified site logistics. Transferring labor hours away from the owner's site can: reduce cost, as design and fabrication is performed at a lower labor cost venue; reduce pressure on facility infrastructure, such as parking and site logistics; reduce disruption to the owner's operations; and reduce numerous risks, such as the risk of accidents and injuries on the owner's site.
Planning and Execution
Lean project delivery is applied by most project teams from concept development for new and renovated facilities. Project teams need to immediately consider modularization options for the project to ensure that subsequent phases accommodate modularization objectives. The process that is typically employed today is depicted in the following diagram.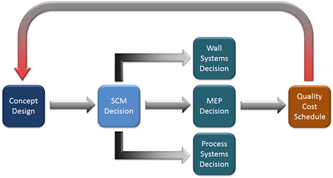 During project conceptualization, project teams analyze a broad array of options and associated impact on cost and schedule. The facility and systems design are modified to take advantage of the selected decisions to achieve the benefits of modularization without the costs and disadvantages of a full-blown shipping container module solution.
Options include:
Prefabricated process and utility equipment, such as skid-mounted clean-in-place or reheat equipment
Pre-piped and pre-wired air-handling units (AHUs)
Modular penthouses complete with air handlers, chillers, and MCCs
Modular wall systems and modular pipe racks for HVAC piping and ductwork, plumbing, process piping, electrical and controls
Large "super-skids" that are broken down for shipment and reassembled quickly in the field.
In some instances, when full-plant delivery via shipping containers is appropriate, the owner should be aware of the limitations and impacts of the shipping logistics and on site assembly. Increases in engineering costs and committing to a set floor plan and equipment list at an early stage of the project are just two of the major considerations when deciding to execute the entire project utilizing shipping container style modular construction.
Where the structures of stick-built facilities are optimized for the purpose of the facility, the structures of shipping container modules must be optimized for two purposes: that of the facility and the requirements of shipping a large module intermodal. Modular projects require additional interface coordination. For example, it requires oversight to ensure that all vendors meet local code requirements, that construction materials used are consistent and compatible, and that controls are integrated. It is important to identify any potential maintenance or operational issues and to allow for future changes and renovations. Even logistics are challenging, as transportation and rigging of these modules becomes a factor.
A rational approach to modular construction will reduce waste and cost, enhance quality and create a delivery system that meets owner requirements, such as limiting the length of a shutdown. Rather than picking an off-the-shelf clean room module, better results can be achieved by engaging designers, contractors and vendors during the early phases of the design process and leveraging their knowledge to engineer a solution that meets the project' unique needs and goals. The result is a custom modular approach that is sensitive to the unique requirements and environment of the specific project.
Modular project delivery requires a greater commitment in Front End Loading (FEL) of a project, both in design and construction planning. In traditional project delivery, definition of physical details is deferred until late in the preliminary, or schematic, design phase. In the custom modular delivery process, early design must address target systems and layout constraints, structural frame requirements, transportation and constructability constraints and flexibility for future capacity and system expansion.
At this point, modularization opportunities can be identified and explored for implementation. 3D modeling is ideal for defining intent and determining overall assembled dimensions and weight. Moving even small portions of the construction off site can reduce on site craft hours, thus reducing safety risks, while minimizing the impact on operations and improving the project schedule.
Today's modular wall systems, which evolved from prefabricated PVC-sheathed aluminum frame wall and ceiling panels, offer a high degree of flexibility. Options include "walkable" ceiling systems and prefabricated return-air walls. Modular wall systems can incorporate integrated electrical lighting and receptacles, HVAC ductwork, HEPA filters, sprinkler systems, and controls. Modular wall systems also provide added benefit of vastly superior quality to any means and methods available for constructing on site.
Just as a custom modular approach should be developed in parallel with overall project design, skids can be sourced while the site, shell and infrastructure "stick-built" construction takes place. Process and facility skids can be designed and built offsite. When it makes sense, factory acceptance testing and pre-qualification can also be performed prior to shipping the skids. Once on site, the integrated construction and compliance team verifies receipt, reassembles the skids and performs final testing and qualification.
One option that can be beneficial for many projects is modularization of utility generation and distribution systems. Designed to meet the required performance specifications, they can be prefabricated on special structural support systems, shipped just-in-time and assembled. The skidded modules generally require a smaller footprint than conventional distribution systems. These parallel activities can shave significant time from the schedule compared to the end-to-end timelines required for completely stick-built projects, involving multiple trades. A construction management partner that understands the entire plant lifecycle can help maximize the benefits of utility and process skids.
In summary, modular lean project delivery approach that is customized to the specific needs of the project offers a number of significant advantages for plant renovations and expansions. From a schedule perspective, performing activities in parallel can reduce overall project duration and make a very favorable impact on the critical "time from decision to delivery."
Modular project delivery reduces disruption to the site, as well as lay down and waste area. Fabrication in the shop, rather than the field, results in higher quality work. By reducing labor hours at the site, MPD improves project safety. Modular project delivery may also reduce costs by transferring labor to lower cost centers, taking advantage of higher productivity in the shop versus the field, and generally reducing site requirements. Throughout the modular delivery process, a team experienced in technical construction can maximize the schedule, quality, safety, and cost benefits realized by the owner.
Benefits of Modularization
The benefits of modularization are many, and the quantitative evaluation of some of them is highly complex. Two of the most obvious benefits are quality, because more craft labor hours are expended under controlled shop conditions instead of uncontrolled field conditions, and safety, for the same reason. The cost of the project can be reduced, depending on the relative cost of shop versus field labor. If shop and field labor costs are equivalent, the cost increases due to module disassembly for shipping must be offset by the savings from productivity improvements in the shop.
The Modular Construction Technologies Tour at INTERPHEX 2016 will focus on a slate of organizations that are on the cutting edge of the advances in modularization. Modular solutions will include modular wall systems, with and without integrated MEP functions, process modules, superskids, and shipping container/structural functional modules. This year's vendors include AES Clean Technology, Inc., Biologics Modular, LLC., and G-CON Manufacturing, Inc.
The INTERPHEX 2016 Modular Construction Technologies Tour will be kicked-off by Dan Leorda, P.E., and John Costalas, LEED AP, Project Executives at IPS. If one of your objectives at Interphex is to leave with an understanding of new ways to reduce project costs, timelines, and risks, this tour will provide a solid return on your time invested.
This article originally appeared as a supplement to the 2016 IPS Technologies Tours at INTERPHEX.