Historically drug manufacturing has been located remote from the research laboratories of its origin. As more gene therapy research moves into clinical trials, academic research institutions are being challenged to locate CGMP facilities within the constraints of university research hospital infrastructure.
This session explores the design, construction, and compliance requirements for a fully validated drug development facility that completes the translational research continuum of bench to bedside, and tests traditional thinking on how and where to locate these facilities.
Session leaders illustrate the path to achieving US and EU CGMP regulatory requirements, demonstrate architectural/engineering solutions, and integrate commissioning, qualification, and validation (CQV) strategies needed to achieve a validated facility.
This session examines these issues through a case study of a new 15,000sf CGMP facility on the Children's Hospital of Philadelphia campus. The presentation covers early planning stages, through design, construction, commissioning and qualification, with a focus on how a fully integrated team developed a space that is helping to realize the enormous promise of gene transfer therapy to address unmet medical needs.
Join Anthony Relvas as Mark Butler moderates his panel discussion at the 2020 ISPE Facilities of the Future Conference.
https://ispe.org/conferences/2020-facilities-future/agenda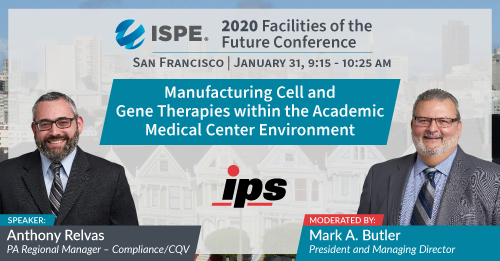 Related Happenings At IPS